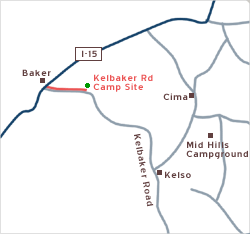 DISTANCE: 11.4 miles
AVERAGE SPEED: 10.0 mph
ELEVATION: 923 feet to 2000 feet
To get to Baker, California, where my trip will start and end, I take a late-evening Greyhound bus out of San Jose. Greyhound requires that bikes be boxed, which means removing the wheels, pedals, and the front rack. I've got it in the box, but it doesn't fit well. A fellow passenger offers his assistance, which helps somewhat, but the box still defiantly betrays a pot belly.
(Note: Greyhound discontinued its Baker bus stop in the early 2000s, but Baker is still served by Amtrak's bus, which connects to Amtrak trains. Better yet, this Amtrak bus route doesn't require that a bike be dismantled and boxed.)
POSTCARD VIEW OF BAKER, CALIFORNIA
I-15 in the background runs northeast toward Nipton and Las Vegas
After a night of bus riding and morning transfers in Los Angeles and Riverside, I arrive in Baker about 14 hours later as scheduled, a little past noon. I expected Baker to feel remote, but it doesn't. With its handful of generic fast-food restaurants, convenience stores and continuous rest-stop traffic funneling in from the passing Interstate, Baker is completely connected and busy. Being abandoned here by a Greyhound bus instills neither fear nor excitement. It doesn't seem to be a place for someone without a car.
I'm in no rush and it takes me about 45 minutes to reassemble my bike and pull away from the Greyhound stop. I'm not sure what took me so long. Hmmm... My bike is so heavy that I can barely move it. And I haven't even bought water yet! How will I ever manage to climb any hills?
I ride up the street to visit the Mojave National Preserve Visitor Centre and ask a few questions. Next door, the Bun Boy restaurant receives my appetite for a late breakfast of corned-beef hash and eggs. Oh, and one last thing before leaving Baker: a stop at the general store for water. I choose three 1.5-litre bottles of water. Is this enough? Of course not! But I'm hoping somehow that it will last well into tomorrow. Anorexia sets in as I worry about the weight of my bike.
I grab a tall can of Budweiser as well, despite my taste for darker, but unavailable, microbrews. Impulse buying. Beer is a good source of water. Since I'm not going far today, it should remain cool for drinking just after sunset.
It's around 3 PM and I'm finally ready to leave Baker. The days are short in November and I'm just realizing that it gets dark a little earlier on this side of the time zone than on the California coast where I live. Maybe it's time for me to be in a hurry, but why?
I cram my refreshments into my panniers, making them fit, and ride away. I wobble through Baker's busy four-way stop and turn on to Kelbaker Road. I follow the overpass over the freeway and once I pass the off-ramp, there's no more traffic. Bye!
The uneasy, exciting moment. Riding out Kelbaker Road into the wide-open desert induces that blissful, doing-it-the-first-time feeling that was common to experience as a child. I'm heading toward nothing but more landscape on an empty paved road. In the city, undecorated space like this wouldn't be a valid destination. The weight of my bike makes for sluggish, slow-motion riding. Momentum slowly picks up though and soon I'm riding over 10 mph.
Eastbound from Baker, Kelbaker Road is a very subtle uphill grade. In a car, one would consider it flat. From the topographical maps that I obviously misread, I was expecting the slope to be slightly visible, but I am extremely glad that it isn't, since I'm riding a 10-ton bike for the first time in my life.
My theoretical destination is an unofficial (but public) camping area at Rainy Day Mine, some 19.5 miles up the road. However, I can tell it will be completely dark well before I reach the turn-off and I'm only at mile 6. Since I risk being unable to locate the road in the dark, I think I'll play it safe and make use of the Preserve's rule allowing off-road camping.
CAMPSITE OFF KELBAKER ROAD
Elevation approx. 2000 feet
The terrain here is expansive and wide-open, but coming up on my left is a big rocky hill that looks like a good feature to snuggle up to or hide behind. As I get closer, Kelbaker Road suddenly veers rather sharply to the right (southeast) away from it. To the left, a narrow dirt road branches off toward the hill. As well, a trail continues straight ahead, but it is blocked by posts indicating that a Wilderness Area starts here and that vehicles (bicycles included) are prohibited. So I take the left on the unnamed dirt road.
Yikes, this road is really sandy and slippery! I can barely keep my balance. At least I'm not going far. I proceed about a quarter of a mile, until I'm as close to the hill as this road will get me, and then I walk my bike across the desert 500 feet or so. Lo and behold, people have camped here before. A small fire ring built of rocks awaits me and it is even equipped with a piece of partly burned wood. A smashed beer bottle reminds me that civilization always leaves traces.
VIEW BACK TOWARD BAKER FROM KELBAKER ROAD CAMPSITE
Baker "skyline" is 10 miles away in centre of photo
I love the romantic notion of staying up and having a miniature campfire with that single piece of wood, but I'm thoroughly exhausted from last night's sleepless bus ride. I definitely do not want to wake up tired tomorrow! I unpack a few items and set up my tent.
What is this wetness inside one of my waterproof panniers? One of my water bottles appears to have leaked slightly from the cap. Oops, something has pierced the paper-thin aluminum Budweiser can and the top quarter of the can has leaked out onto a few pairs of socks. That's what I get for buying cheap beer... OK, I'll just spread the socks out on the rocks here and they can dry out overnight. Oh, my camera is in this bag too...
I like this campsite! Secluded and essentially in the backcountry (no one is likely to stumble across me here), yet open to the skies and still distantly connected to civilization. Kelbaker Road might be invisible, but the roar of a car passes every 20 minutes to remind me that it's just over there through the desert scrub.
The dying red radiance behind the mountains near Baker used to be a sunset a few minutes ago. With neither sun nor moon, this city dweller inhabits an inhabitual darkness that is as peaceful as it is threatening. Curled up in my tent, I stare out through the screen. The darkness seems dense enough that its secret texture should reveal itself if I stare at it long enough.
Too much silence. I try not to exist so I can listen to distant birds, animals and rustling bushes, but I unintentionally drown out their sounds with my boorish loudness: my clothing rustling, my breathing, tent walls flapping in the light breeze, the forceful crunch of a leaf under the tent floor.
This listening game is proving to be like counting sheep. I manage to zip up the tent windows just before my final lucid thought departs around 7:30 PM, which is probably the earliest this night owl has said "goodnight" in 10 years. Dazed from lack of sleep last night, this feels truly beautiful.