DISTANCE: 21.1 miles
AVERAGE SPEED: 9.0 mph
ELEVATION: 5600 feet to 4400 feet, then return to 5600 feet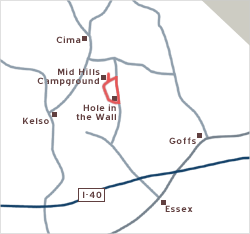 I slept so well that I can't believe I even woke up. And it's so nice to sleep in a bit late! My torso is in a mild state of pain from all of last night's heavy steering and is grumbling something about how "you've never got me to do those exercises before."
Now that I'm seeing Mid Hills campground in daylight, I have to agree with sentiments expressed that this place is attractive. Today's perfectly blue sky helps the appearance. The landscape here is a sort of desert-forest hybrid with stubby pine and juniper trees that aren't quite close enough together to give the feeling of a forest. Mingling with lots of more typical desert plants as they do, an interesting aesthetic mismatch is provided to a newcomer like me.
The trees up here are just tall enough to produce a little shade, but I don't want any right now, thanks. It feels cold this morning, so I check the thermometer at the campground entrance and it reads 37°F (3°C). No wonder my breakfast of several cups of tea, a pot of hot ramen-noodle soup, followed by some potato curry is so soothing!
I have no ambition to pack up and move on again, so I'm going to spend tonight here too. Another chance to do a day ride without carrying all my gear! I'll ride Wild Horse Canyon Road down 1200 feet to the Hole in the Wall campground and then come back up via Black Canyon Road for a therapeutic 20-mile loop. This will be scenic, not ambitious. I won't even have to carry much water since I can fill up at Hole in the Wall. I'll be so incredibly lightweight today!
Wild Horse Canyon Road looks as western and remote as the name suggests, fresh out of a cowboy movie with backdrops of severe, carved-up mountain shapes. The two-lane dirt road is fairly twisty and predictably washboarded and sandy in patches. But it is a "maintained road," which means that it's an actual road, not just tire tracks cutting across the desert. In today's very relaxed state of mind, I find myself surprised that I have to climb a few minor hills before my 1200-foot, 10-mile descent begins.
There's little sign of human activity out here. I stop to chat for half an hour with the only two people I came across—two hikers who, it turns out, are also camping at Mid Hills. Shortly afterwards, a lone car passes by.
I'm looking out for a turn-off called Macedonia Canyon Road. I'm now used to the fact that a road marked on a map may be little more than a trail, so I'm not expecting to see a sign of any kind. I spot something that might be a road, so I stop and check my maps. This is it.
Macedonia Canyon Road is little more than a set of tire tracks that goes down a hill and around a bend. In fact, one of my maps only shows a part of it. I descend the first few hundred feet of the road to see if there is a hidden amazing view from the curve just below. There isn't and I have no plan to follow it down about 2000 feet to Kelso-Cima Road today, so I walk my bike back up to Wild Horse Canyon Road. I'd like to try this remote road, but downhill only please. I think climbing this road with a 10-ton bike would be very difficult!
The curves and humps of Wild Horse Canyon Road add so much to its scenic value. Around every bend awaits another Kodak moment. I wish this could go on forever. I especially enjoy the intimacy that is created by mountains sitting back on each side of the road. However, the descent ends too quickly and my southbound road turns eastward toward its end near Hole in the Wall.
Hole in the Wall campground plops down in a relatively flat and open area with a mountain backdrop like Wild Horse Canyon Road. It's another stark, inviting landscape, but I'm spoiled from having visited Mid Hills first. The road connecting the campsites here etches a loop as elegant and pertinent as a suburban street layout in Anywhere, North America. The openness of the area makes it look like you would have a view of every campsite from any camp site that you choose. Most of the sites here appear to be populated by an RV, in contrast with Mid Hills campground, which is not so RV-accessible owing to the difficult road leading up to it. Therefore, Mid Hills attracts more tent campers, who benefit from the the scenic value of the tree-dotted, up-and-down terrain. I can't imagine a cyclist or other non-RV camper choosing Hole in the Wall over Mid Hills.
I refill my water bottle and head back north toward Mid Hills, this time via Black Canyon Road. This is also a two-lane dirt road, but it's slightly wider than Wild Horse Canyon Road, and it's straighter and more efficient in appearance. In fact it's even paved south of Hole in the Wall! Of course, there is some sand on the rough surface, but I now expect this as a given out here. This is a busier road for the area, but traffic is still minimal. Great mountain views abound, so the slow, but not steep, climb up 1200 feet is passing quite enjoyably.
As I approach the summit, the road narrows a little and winds scenically between a few hills à la Wild Horse Canyon Road and then drops slightly. Three deer on a hill see me and run away. This upper section of Black Canyon Road gets quite slippery in spots with powdery sand and is heavily washboarded in places.
Finally, I reach the junction of Wild Horse Canyon Road, where it is sandy enough that I have no choice but to dismount my bike and walk 100 feet before continuing. I pause here and think about how I passed here last night under the blanket of total darkness, oblivious to the beauty of this area. Looking to the east, I can see the high desert I crossed last night along Cedar Canyon Road, and the Piute Range beyond. Just to the north are the distinctively decorative New York Mountains.
I've finally had enough of this contemplation, so I head west along Wild Horse Canyon Road for the last two miles to reach the Mid Hills campground entrance, navigating the sand and the gravel patches, this time in daylight. I have a couple of little hills to climb up and they look more challenging now than when they were invisible last night.